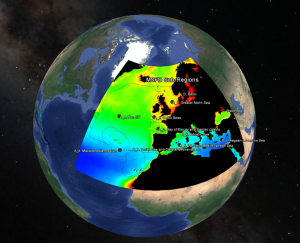 CHLO4MSFD is a web portal service focussed on satellite-derived chlorophyll-a data covering the Marine Strategy Framework Directive (MSFD) in European Marine Regions.
It is dedicated to stimulate and enhance the use of these data and derived products by MSFD actors in their monitoring, assessment and reporting activities.
To achieve this general objective, CHLO4MSFD will include the following elements:
1. A catalogue of different datasets relevant and/or useful to promote the introduction of satellite-derived chlorophyll-a into the MSFD monitoring and assessment tasks.
2. Web mapping services (WMS and ncWMS) to visualize the data included in the former catalogue.
3. Web services to extract spatial and temporal subsets of grids (maps) and points (time series) in formats commonly used by MSFD actors.
4. Link to relevant scientific and technical documentation related to the applicability of satellite-derived chlorophyll-a for MSFD assessment purposes.
5. A Web client application will be provided to allows users to search, visualize, and extract data, using the above mentioned services. The access to this application can be found in the Homepage as "Access to Service".
What are the strengths and weaknesses of chlorophyll-a values from ocean color satellites?
In the last decades, various missions with optical sensors on polar orbiting satellites (CZCS, SEAWIFS, AQUA/MODIS, TERRA/MODIS, ENVISAT/MERIS, VIIRS, etc) have provided a collection of data suitable to detect the concentration of chlorophyll-a in the surface layers, as shown in the diagram below.

The main advantage of Chlorophyll-a values from ocean color satellites is that they provide a cost-effective technology to monitor large and distant areas at time scales than enable to capture the regional and local variability derived from the dynamics of marine processes. Therefore, they are a useful and complementary source of data for marine assessments.

Some limitations that have to be considered to use this data in an accurate way are:
Only surface layers are sensed, hence subsurface peaks of chlorophyll may be underestimated or completely missed.
The accuracy of the estimation of chlorophyll-a values in waters with complex optical properties such as coastal waters is limited.
In this context, what will be proposed by the CHLO4MSFD Service?
The CHLO4MSFD service will demostrate the potential usefulness and limits of satellite data for the estimation of indicators and for the assessments, highligthing their strengths into providing a monitoring coverage over large and distant areas at time scales than enable to capture the temporal variability derived from the dynamics of marine processes that affect the achievement of the Good Environmental Status targeted by MSFD.
The use of this data can also potentiate coherent and integrative assessment across EEZs and Marine regions avoiding inconsistent assessment results issued from dispare monitoring techniques and assessment methodologies.